Welcome to IMMOLEON24



Exclusive partner of FALC Immobilien

 
Here you will find your real estate professionals for buying, selling or renting apartments, houses,

Land and commercial property.


As an exclusive partner of FALC Immobilien, IMMOLEON24 has been one of the leading brokerage service companies for over 10 years

of residential and commercial real estate in Germany. FALC Immobilien offers private and institutional customers at almost 100 locations

professionally coordinated range of services. Consulting, sales and letting are the core competencies of over 250 real estate agents

and their employees. Awarded several times and best rated by customers, FALC real estate agents always work for you

to offer the maximum possible service. You sell your property with us, you will find your dream home in our portfolio.
 
And - if you have any questions for financing and insurance, the colleagues at FALC Finance GmbH will be happy to help you.

We look forward to you!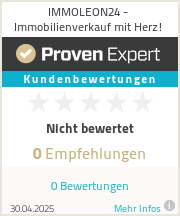 Here you will find your property



What is the best possible price for your property?



How well do you know about the real estate market?
Do you have the current market overview?
Do you know what purchase prices are actually paid?
Can you ascertain the best possible offer price for your property?

Request yours here
Market price analysis for your property to:
Overview map:
IMMOLEON24

Properties with street information
Properties without street information. Please inquire about street.